The Circuit Breaker(36) protects the entire system from overloading the 120vac or 240vac power lines inside the dolly. This is a 5 Amp breaker.

The Low Voltage Fuse(37) protects all the 24vdc systems in the dolly. The control switches, pilot lights, the motor relay, the pressure switch, the circuit board, and the Oil Level Switch(19).

If the red POWER light on the Electric Control Panel(27) does not come on when the Power Cord(35) is plugged in, make sure there is the specified current to the Power Cord first, then check the Circuit Breaker(36), then the Low Voltage Fuse(37). (1 amp fuse)

If the Circuit Breaker(36) is tripped, press the "O" part of the rocker switch on the breaker, then press the "1" to turn back on. Do not use this breaker as an ON/OFF switch.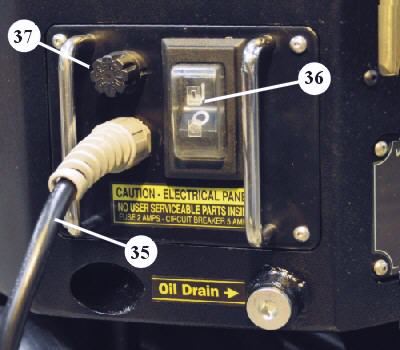 Figure H4
35 Power Cord
36 Circuit Breaker
37 Low Voltage Fuse